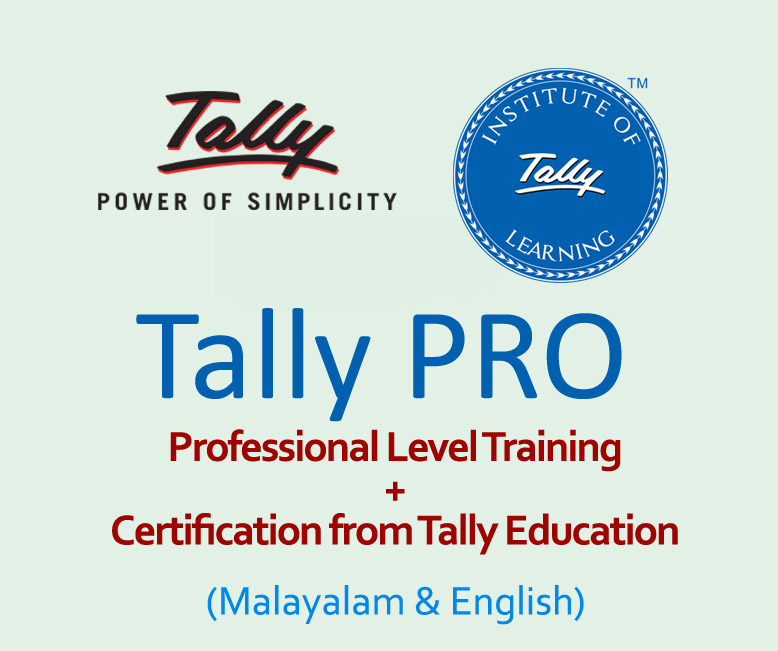 Tally PRO with Tally Certification-(Professional Level Certification)
COURSE HIGHLIGHTS
Tally PRO+ Tally Certification From Tally Education Pvt Ltd
60+ HD Videos
4+ Hour of Content
Chapter-wise Practice Questions
Course Completion Certificates
150 Multiple Choice questions
100+ Practice Scenarios.
INTRODUCTION
Tally PRO is an advanced level certification course from Tally is for candidates aspiring for growth in their careers. Candidates passing the online assessment will earn a verifiable digital certificate from Tally. Tally PRO will help certified candidates take a significant shift in the career and prepares to handle mid-level positions in an organization.

Don't give a second thought to join the course and start learning!
This certification covers:
Fundamentals of Accounting and Inventory Management
Accounting day to day transactions
Receivables and Payables Management
Banking and Payments
Storage and Classifications of Inventory
Administration of Complete Order Processing Cycle
Statutory and Taxation (GST and TDS)
Data Management
WHY GET CERTIFIED?
Verifiable Digital Certificate from Tally Education Pvt Ltd
Multiple Career Opportunities for certified candidates
Career Progression and Management
Industry Preferred Certificate
After successful completion of the course, students will get a "Certificate of Completion & Certificate from Tally Education Pvt Ltd"
INTENDED PARTICIPANTS
Businessmen
Students
Freelancers
Beginners in finance
Persons who want to start an accounting business
Bankers
Why Happy

Learnings?
Happy Learnings is the fastest growing online education marketplaces on the internet to learn accounts, business, software, technology, and creative skills to achieve personal and professional goals. We partner with companies and individuals to address their unique needs, providing training and coaching that helps working professionals achieve their career goals. In addition to helping individual learners achieve their goals, we offer flexible, cost-effective group memberships for your business, school, or government organization.
Instructors